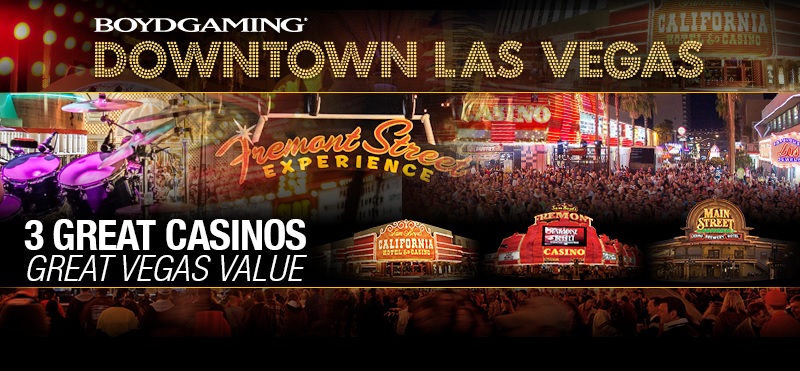 Downtown Las Vegas:
B Entertained
Downtown Las Vegas is a delight for the senses. While visiting the area, you'll find an eclectic mix of historical and contemporary attractions, ranging from turn-of-the-century antiques at the picturesque Main Street Station Casino, Brewery and Hotel to the spectacular light and audio extravaganzas occurring nightly in front of the Fremont Hotel and Casino. You can even enjoy a touch of tropical magic at the California Hotel and Casino, where the hospitality of the Hawaiian Islands flourishes.
CALIFORNIA HOTEL CASINO
| | |
| --- | --- |
| Book Online for the Lowest Rates | Book Now |
The hospitality of the Hawaiian Islands will flower during your visit to the California Hotel Casino. We like to say "Aloha" is spoken fluently here, and our guests enjoy many Hawaiian touches, ranging from dining delicacies such as oxtail soup to the colorful decor reminiscent of the islands' lush, tropical beauty.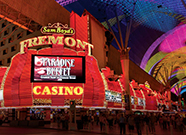 FREMONT HOTEL & CASINO
| | |
| --- | --- |
| Book Online for the Lowest Rates | Book Now |
Located in the heart of the Fremont Street Experience, our friendly team members serve up plenty of gaming action, not to mention delectable, award-winning dining selections and comfortable accommodations.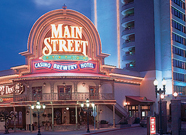 MAIN STREET STATION CASINO BREWERY HOTEL
| | |
| --- | --- |
| Book Online for the Lowest Rates | Book Now |
Possibly the best-kept secret in all of Las Vegas, set in the splendor of the Victorian era, with dozens of rare antiques and curiosities, award-winning restaurants – and even a slab of the Berlin Wall – Main Street Station offers a unique experience you won't want to miss.